Empire Minecraft is a collection of Minecraft Servers, with over 400,000 players, averaging 200 to 300 online during peak!All of our servers are integrated together into one large minecraft community. Our Minecraft Community is the core of a great experience.
Our minecraft survival servers are a friendly place to enjoy the game, whether you are a new to minecraft or a veteran, There is something for everyone to do.Our server focuses on the idea of Play Your Way, meaning we give you the option to play the way you like best.
Looking for a new minecraft server to play on? Then look no more, you are here.
Google+
Minecraft Survival Servers
Voting Contest Is Over in:
When Jeremy and I first started the Empire we decided that the Wasteland was going to be an "anything goes" world. This was because Town was a safe happy place where you could build protected. We also wanted to keep the SMP (Survival Multiplayer) aspect of the game that we feel makes it so fun (that is why there is only dirt in town, etc).

Recently a lot of people have been complaining about their stuff being griefed in the Wasteland, and we understand how that feels. Some people have been asking to "protect" areas in the wasteland (similar to a residence) so it can't be griefed. The problem is that it sort of ruins the point of running a survival server.

What we propose is that we have a process where people (usually a team) can apply for an extra plot in town to build something in. And then we make it a rule that the wasteland is "anything goes" and don't complain if your stuff gets taken / your cabin burns down from a lightning strike / etc. Additionally when the 1.8 update comes out we make a new world that does NOT have a live map. This would keep the survival feel of the wilderness while allowing space for people to be creative. What does everyone think?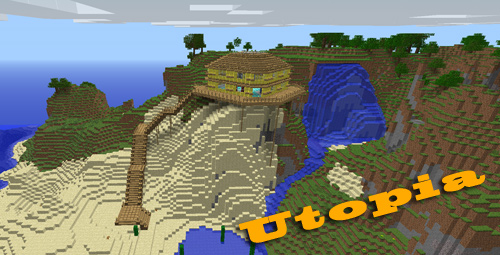 Introducing the new supporter subscriptions. Becoming a supporter helps cover the costs of running the Empire. There are three levels available: Iron, Gold, and Diamond. Each level comes with perks for both the site and game server (Diamond has the most).
Click here to view the perks available with each level.
All subscriptions are processed through Paypal. I know the amounts are in USD and we have members from all over the world, but Paypal will take care of all of that.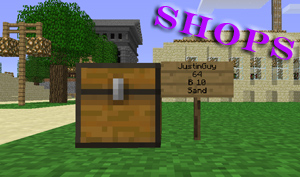 Unfortunately with some updates this morning we had to get rid of the plugin we were using that let us have the fancy floating items in the shop

. We have replaced it with a shop plugin that will now allow players to create their own shops to sell items for rupees! I have added a section to the
Server Guide
that outlines how the new shops work. This also means that the official Empire Shop (in the Town spawn) will be closed for renovations temporarily.
Click here
to view a list of the other changes.
Hey Everyone! If you could take a minute out of your time and register (if you haven't yet) on PlanetMinecraft and rank our server up with the button on our page, it would help us a TON! The link is below. The button you want to press is highlighted in the above image:
View Empire Minecraft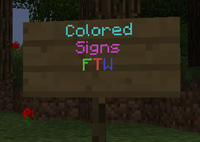 Personally I think that the black text on signs is hard to read sometimes. Today I added a plugin that allows anyone to color the text on the signs they create. It is really simple to use, and I added the instructions to the
Server Guide
under a new
Advanced
section.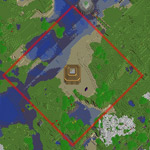 Today I applied some updates to the
Live Map
, you may need to clear your browser cache to see them:
You can now click on residences in Town to see the address and who owns it.
Residences waiting to be claimed will now show in blue on the Town map.
There is now a red border around the protected spawn area on the Wasteland and Nether.
You can now follow a player on the map by clicking their little avatar photo in the right players list. Following a player keeps the map centered on them.
Lawsuit settlement negotiation may soon become a spectator sport. In response to

a trademark complaint from Bethesda Softworks

, Minecraft creator Notch is suggesting an unorthodox way of settling the dispute.
In

a post on his blog

, Markus "Notch" Persson has proposed a decisive game of Quake 3 to put the litigation to rest.
"I challenge Bethesda to a game of Quake 3," Persson said. "Three of our best warriors against three of your best warriors. We select one level, you select the other, we randomize the order. 20 minute matches, highest total frag count per team across both levels wins."
If Persson's team wins, The Elder Scrolls developer would have to drop its lawsuit claiming that the indie developer's next game, Scrolls, infringes on its own trademark. If Bethesda wins, Persson would agree to change the name of Scrolls to a Bethesda-approved title. In either case, Persson would be willing to put a disclaimer in his game noting that it is not related to The Elder Scrolls series in any way.
"I am serious, by the way," added...
It was a very long evening but the new server is up and the Empire has been transferred to it. If you cannot connect it may be that the DNS has not fully propagated yet. As a temporary solution you can connect to play2.empireminecraft.com (map2 if you are having trouble loading the map) . Please let me know if you find any issues.