Empire Minecraft is a collection of Minecraft Servers, with over 400,000 players, averaging 200 to 300 online during peak!All of our servers are integrated together into one large minecraft community. Our Minecraft Community is the core of a great experience.
Our minecraft survival servers are a friendly place to enjoy the game, whether you are a new to minecraft or a veteran, There is something for everyone to do.Our server focuses on the idea of Play Your Way, meaning we give you the option to play the way you like best.
Looking for a new minecraft server to play on? Then look no more, you are here.
Google+
Minecraft Survival Servers
http://www.reuters.com/article/us-yahoo-cyber-idUSKCN11S16P
As we keep being reminded -- re-using passwords across sites, and then those sites getting hacked leads to chain reactions.
If you have a Yahoo Account and still use the password you used in 2014 and before, then change it immediately on all sites its on!
The password will soon be on the internet for anyone to see... so change it quickly.
Dear EMC Community,
It has come to our attention that one of our Staff Team member's accounts was recently compromised. A banned player with malicious intentions utilized a Staff member's account and accessed staff confidential information. Some of you may have already been aware of this, due to the player's not-so-subtle temp and permabans of some players. After analysis and information gathered, we have determined the full extent of the breach and are sharing it with you, the community so that you are aware. Please note that this was a Moderator account and as such, certain details were not made accessible to them at all. Information such as player registration email, private chat, etc are only accessible to the Senior Staff and above and was not compromised. And even if it was a Senior Staff account, we made security improvements after the last incident to lock the admin panel down to an IP white-list to avoid future data deletion as had occurred.
We are initiating a Zero Tolerance policy with regards to this issue. Note that the inquiry into, or the sharing of, the private information as it was leaked, is grounds for an immediate and

permanent

in-game and site ban, as well as further legal action if deemed necessary.
The player that was involved has already been handled, but may be reaching out via Skype or other social media to share this information. Do not give them the recognition that they seek by continuing to share it or giving them credit by name.
Data that was accessed and downloaded includes the following:
Tonight, September 11th, 2016, please join Krysyy at the memorial on smp4 for the annual September 11th memorial service. This is not a party, so don't expect any drops/giveaways. Please also be advised that the memorial service will be held in residence chat and you are expected to be respectful if you attend. Any signs of disrespect towards this day and what it stands for will result in a removal from the ceremony and possible staff action.

This is not the time for political discussions/arguments. This is simply a memorial service hosted by Krysyy to honor the fallen from 9/11. The memorial residence has been updated and now has a stage, as well as barriers to keep players out of the memorial pools. Please be respectful of other's space when you visit.

What: September 11th Memorial Service
When: TONIGHT at 8 pm EMC time
Where: /v memorial on smp4
The promo Labor Bench for this year is available through
/promo laborday16
until at least September 12th.
Have a safe and happy holiday everyone!
5th Annual EMC Wallpaper Contest!
Deadline: August 31st, 2016 at 11:59 pm EMC time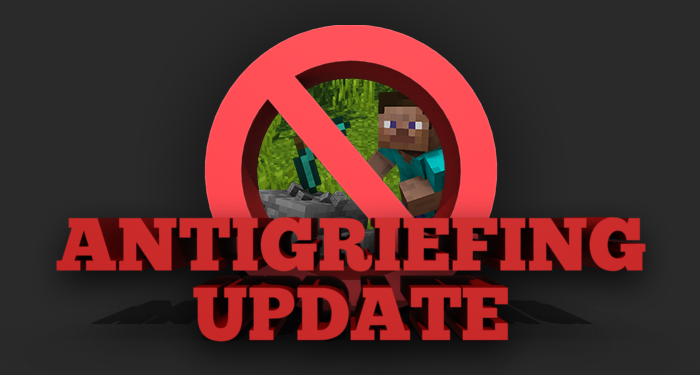 It's here! The anti-griefing update is LIVE!

Please note that this system isn't perfect, but is as close as we could get with the logistics involved. This update is simply meant to protect players against major destruction and is not a full blown protection system. Outposts (Residence in the Frontier) will be the full protection system in the future.

EMC's anti-griefing system is designed to prevent griefers from breaking blocks without the owner's permission. If someone does try to break a player's block without permission, the block will be protected, and they will receive an error. The anti-griefing system is available in the Frontier and Wastelands (with limits) worlds. To learn about Town's separate protection system, see the Residences page.

Please join me in extending a warm welcome and re-welcome to the Empire Minecraft Staff Team for the following:
samsimx
JDHallows
FDNY21
These awesome players are just the newest of many awesome Staff that work to improve the community and keep everyone playing by the rules. There is no doubt in my mind that these players will continue to prove why they are prime staff material!
If you are interested in helping the server and think that you have what it takes to be staff, make sure that you apply at
staffapp.emc.gs
Know someone that you think would make a great addition to our team? Recommend them at
recommendstaff.emc.gs
Congrats and good luck to the newbies!