Empire Minecraft is a collection of Minecraft Servers, with over 400,000 players, averaging 200 to 300 online during peak!All of our servers are integrated together into one large minecraft community. Our Minecraft Community is the core of a great experience.
Our minecraft survival servers are a friendly place to enjoy the game, whether you are a new to minecraft or a veteran, There is something for everyone to do.Our server focuses on the idea of Play Your Way, meaning we give you the option to play the way you like best.
Looking for a new minecraft server to play on? Then look no more, you are here.
Google+
Minecraft Survival Servers
We have a new thread. One that we hope we'll see on the page quite frequently.
We've debated quite a bit about the best method in which to help player events have high participation and encourage players to run their own events, instead of relying on Staff hosts. For a while now, we've allowed a front page promotion for events that meet certain criteria for being community oriented, well organized, etc. We've never allowed birthday parties, or drop parties to be posted due to not wanting to spam the front page with player threads and crowd out important news.
Read more...
...
Hi gang,
If you're using one of the bigger browsers (Chrome, FireFox, Opera, or even Microsoft Internet Explorer) then you're probably also using one or more plugins. Most modern browsers allow for this. If you do then you might want to check if you're using the "
Web of Trust
" plugin, and if so: you might want to remove that thing
right away
!
Web of Trust is a plugin which allows its users to rate and comment on websites and present that data to other users. So if you visit a new website then - theoretically - this plugin can tell you if it's "safe" and (to some degree) trustworthy. The theory behind it is that this makes the web safer.
Yeah...

It has been revealed that the company behind Web of Trust does not only massively collect user data from all the plugin users, they're also actively
selling
this data to 3rd parties. Read more about that
here
and
here
(thanks Aikar!). What makes this so bad is that despite the promises in their
privacy statement
they're not using anonymised data, but are basically selling just about everything they get from your browser (like your browsing history). Researchers have already managed to establish the identity of 50...
Welcome to Halloween Town!
For a MINIMUM of one week, enjoy the spooks and haunted buildings that our Staff created in Halloween Town by typing
/halloween
. This interactive town has many awesome hidden things that are sure to have you in the Spooky Spirit. Please note: The attractions in Halloween Town are meant for fun and not for prizes. Please keep that in mind when venturing too close to the chilling and deceiving Manor.
*Hint: Avoid it entirely if you don't like mazes.*
Trick-or-Treating: Empire Minecraft Style
There are multiple ways to participate in the Trick-or-Treat festivities this Halloween.
Throughout Halloween Town, there will be mobs spawning. Don't worry, they can't hurt you. However, they have all been gorging on
Haunted Candy
over the entire month of October and will likely drop some, if killed.
Have a spare Haunted Head or Headless Horseman Helmet lying around from years ago? These old promos dispense the SAME candies as the mobs, so you will be able to use those for the next part if you don't feel like slaughtering the inhabitants of Halloween Town.
There's an awesome new way to share candy with other players and we've even made a game of it! Each...
Tonight, September 11th, 2016, please join Krysyy at the memorial on smp4 for the annual September 11th memorial service. This is not a party, so don't expect any drops/giveaways. Please also be advised that the memorial service will be held in residence chat and you are expected to be respectful if you attend. Any signs of disrespect towards this day and what it stands for will result in a removal from the ceremony and possible staff action.

This is not the time for political discussions/arguments. This is simply a memorial service hosted by Krysyy to honor the fallen from 9/11. The memorial residence has been updated and now has a stage, as well as barriers to keep players out of the memorial pools. Please be respectful of other's space when you visit.

What: September 11th Memorial Service
When: TONIGHT at 8 pm EMC time
Where: /v memorial on smp4
The promo Labor Bench for this year is available through
/promo laborday16
until at least September 12th.
Have a safe and happy holiday everyone!
5th Annual EMC Wallpaper Contest!
Deadline: August 31st, 2016 at 11:59 pm EMC time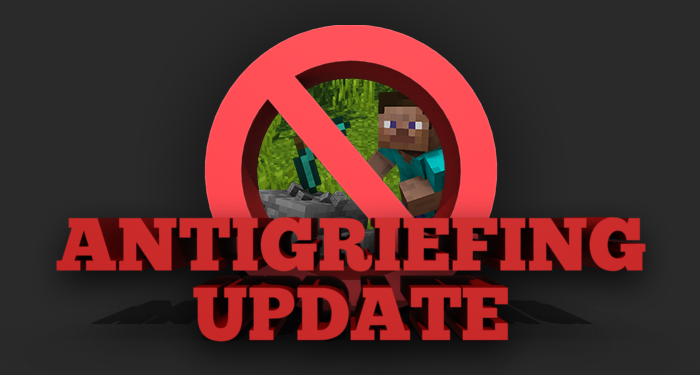 It's here! The anti-griefing update is LIVE!

Please note that this system isn't perfect, but is as close as we could get with the logistics involved. This update is simply meant to protect players against major destruction and is not a full blown protection system. Outposts (Residence in the Frontier) will be the full protection system in the future.

EMC's anti-griefing system is designed to prevent griefers from breaking blocks without the owner's permission. If someone does try to break a player's block without permission, the block will be protected, and they will receive an error. The anti-griefing system is available in the Frontier and Wastelands (with limits) worlds. To learn about Town's separate protection system, see the Residences page.