Empire Minecraft Servers | No Griefing!
Want to play Minecraft your own way? Look no further than Empire Minecraft! We pride ourselves in creating a vanilla-like survival server with custom-coded extended gameplay!
Most Minecraft servers either classify themselves as vanilla or non-vanilla. Many of our loyal members have dubbed us as a 'French Vanilla' server. Despite having one of the most custom experiences you'll ever find on Minecraft servers, you'll always have that 'Just Outside Vanilla' feeling.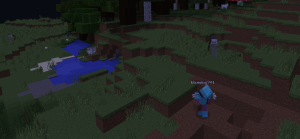 Whether you're all about fighting custom mobs in the wild, or you want to dominate the market by having the best mega mall in town, the Empire has everything you need and more!
Don't just take our word for it; read the player testimonials on the right and see for yourself!

On EMC, we offer numerous play styles to choose from.
Live in the Frontier, fighting monsters and building in the natural vanilla world terrain!
Play on easy difficulty or play on super hard! Choose your own difficulty level and get big rewards for your efforts!
Start your own economic empire in the Town world and be the #1 Mega Mall!
Build in peace without monsters in our peaceful Town.
Use the economy, trade, and hiring services to collect needed resources instead of farming them yourself.
Become a collector and collect our vast amount of special items only found on the Empire, including numerous limited edition promotional Items!
Build games and puzzles on your Residence for others to play and solve
PvP only in the special arenas on our custom Games server without risk of item loss!
Compete in our staff-run events and contests!
Strive to become a Contribution Team or Build Team member to help the Empire!
And more… what can you create on the Empire Minecraft Servers?

Many of our features include "Player Settings," a special menu where you can control how things impact you on the Empire. For example, your personal Player Difficulty means two people fighting creepers side by side have very different experiences. The player with the lower difficulty level will be able to kill the creeper easier than the other player.
This lets you control how you prefer to play, challenge or not. It is truly "Play Your Way."
Community Oriented, Clean Chat

The Empire hosts over 100 players online every day, divided over 11 servers! Switching between servers is easy, and our global chat allows for effortless cross-server communication.
Thanks to our multi-channel design, you can chat privately with friends, nearby players, or everyone! Our chat system is very clean. This helps you make new friends and create a strong bond with your fellow players. The community is what makes Empire Minecraft amazing!
Empire Minecraft has a large, mature, and friendly staff team. Many of our staff play the game with their family on Empire Minecraft, so we understand parents' concerns about seeing swearing and adult chat! Empire Minecraft has set rules for a "PG" level of chat rules and will remove the ability to chat from anyone who breaks these rules.
We do our best to block known bad words from being said, but those who try to get around it are punished!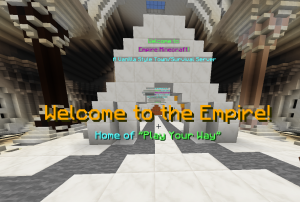 Empire Minecraft has a professional development team of adults. We have a long-term road map, meaning that there will always be constant innovation and new experiences! You can expect the quality of the content on Empire Minecraft to be extremely professional and to be around for years to come.
What are you waiting for?
Many servers constantly change their features every version update, removing a plugin because it is incompatible with the latest version. At Empire Minecraft, we design all of our features with care and rarely ever remove a feature due to a version update! You can rest assured the gameplay you experience will continue to be there through future version updates. Few other servers are as stable as Empire Minecraft.